I'm grateful for creative friends.
Two years ago I headed to BlogHer in New York with my friend Karen. Oh, I'd love to go back to NYC again. Anyway, this month she has come up with the perfect antidote to Writer's Block for someone like me. I've tried to complete NaNoWriMo before but I've never hit the 50,000 word target and found that I just become crankier at work and home for the entire month of November without any particularly satisfying result at the end.  So this month I will be joining in with Karen's NaNoWriMo prompts – a whole lot of words to help prompt creative writing without the massive target. Thanks Karen! Just what I needed.
You see, I'm finding that as the boys get older, play more sport and go to bed later  (they are nearly 8, 10 and 12) and as my workload increases, it's harder to find quiet time to indulge in personal creative projects, whether it be writing, drawing, reading, dreaming…..creating. Some days it feels l don't have as many new ideas as a result. However, I think that ANY creative activity is important and worthwhile and this looks fun. I hope it gets the creative juices flowing again!
I'm going to start with the "Expressions" prompts.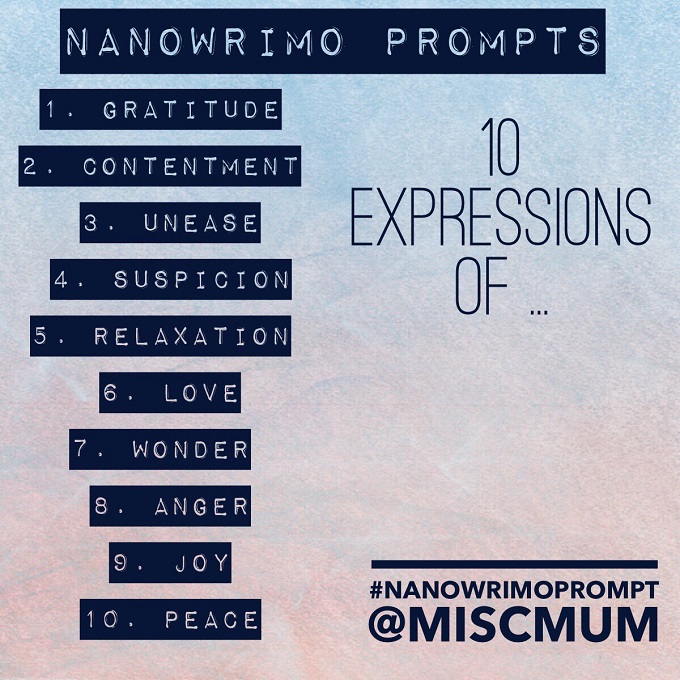 ***************
1. GRATITUDE
***************
Be grateful! They said.
#grateful They posted.
Be grateful for the food we eat. The things we tweet.
BE GRATEFUL!
Have you posted something you are grateful for lately?
No? Why not?
Where is your gratitude?
Oh.
Did you forget to hashtag?
***************
I'm grateful for so many things that sometimes I forget there are times to say no.  Since turning 40, I have learned how to be grateful AND to be kind to myself. And I'm grateful for that.
***************
Gratitude isn't over-rated. it' under-valued.
It's a gift. It's an art. It's a generous place.
But gifts have become #gifted
It's all about getting
That's not a #gift
It's a #pricetag
Art has become about skills
It's all about producing
That's not #art
It's a #personalbrand
Gratitude has become #FOMO
It's all about noise
That's not #gratitude
It's a #hashtag
Let's get back to gratitude. Back to giving gifts. Back to making art. Loving life. Loving others.
Yes I hashtag #gratitude
Yes I instagram moments.
But not all get amplified in pixel form. Sometimes they just need to
Be
Be grateful
***************
If you're not aware of being grateful, you are quite possibly feeling very entitled. Or maybe you just feel a bit sad.
***************
G.reat minds notice little things.
R.ead. Read. Read.
A.lways rememeber to praise.
T.hank you, of course. And please. And manners.
I.magination is important and gives gratitude wings
T.his is Not a Love Song
U. I see u. I notice u. I am listening to Y.O.U.
D.are to take action
E.ternity
***************
Although NaNoWriMo is all about THE WORDS I'm also all about THE PICTURES

Finding gratitude in car-park stairwells. Silent thoughts shared. Earnest Comedian.

Finding gratitude in family time, icy water and who cares it's the beach let's go.

Finding gratitude in a meal grown and cooked by my in-laws. So good and instagram was not even the slightest consideration when they made this.
***************
And so gratitude I bid you adieu, at least for the purposes of this post
I know you each day, I notice you nigh
And to my children
Listen for her.
Gratitude, thank you.